Our Story
In 1987, Andrea Hansen went with the Toronto Symphony on its Canadian Odyssey tour performing for six different language groups above the Arctic Circle. She discovered a once vibrant musical heritage brought to the Beaufort Sea by early European whalers, sealers and Hudson's Bay Company workers.
These early travelers played their fiddles and infected those around them with a love for fiddle music. The Inuit and other Northern First Nations gradually adopted this new musical art as their own. For decades almost every village or settlement had at least one "entertainer". But with time, elders passed away, teenagers fell prey to alcohol and drug abuse, and the fiddling tradition began to fade.
While there, Andrea Hansen met Frank Hansen, an amateur fiddler and Inuvik businessman. He shared his dream to keep the fiddle alive in the North. The two co-founded Strings Across the Sky, and began to collect unused fiddles and other instruments.
With a passion for music and a desire to share and create learning opportunities for children in the Arctic as well as many other indigenous communities across Canada, she created a unique, active and fun teaching method which combines violin with traditional fiddling.
Hansen returned regularly each year with her brand of teaching magic. Students young and old are always inspired by her methods. First she performs Mozart's classic, Twinkle, Twinkle Little Star. She then leads the youngsters through an array of Twinkles, an angry version, a sad version and a romantic version. In minutes, students learn the instrument communicates as they do. They are hooked. To hold an instrument and make it "talk" is an experience and much more interesting than passive learning. The experience leads to achievement, inspiring dreams and personal goals; these are the building blocks to self-esteem. Hansen witnessed it over and over again. She was not alone. Parents noticed that their children's motor skills and co-ordination improve along with an ability to focus.
A Unique Method: The children learn to hold a violin first by holding wooden spoons, a method Hansen used herself over 60 years ago when she first began to play in the woods near Kenora, Ontario. Next, they play on violins and four open strings, followed closely by fingers none, 1, 2 and 3. In turn, students gain an immediate feeling of fiddle playing. By using the open strings with a note pattern and listening to guitar chords, students easily learn the basics skills needed to play a fiddle tune.
"Early on, music is mathematics. It's a clear form of communication and it releases stress. If you learn to read music, then you learn to read," Hansen explained.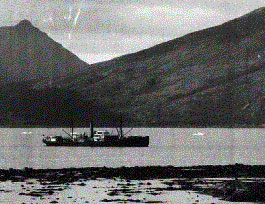 Nascopie, Pangnirtung Fiord, 1926.
Artist Maurice Haycock (holding banjo) celebrates an arctic Christmas in 1926 with Natsiapik, shown playing his fiddle.
"To hold an instrument and make it 'talk' is an experience and much more interesting than passive learning..."